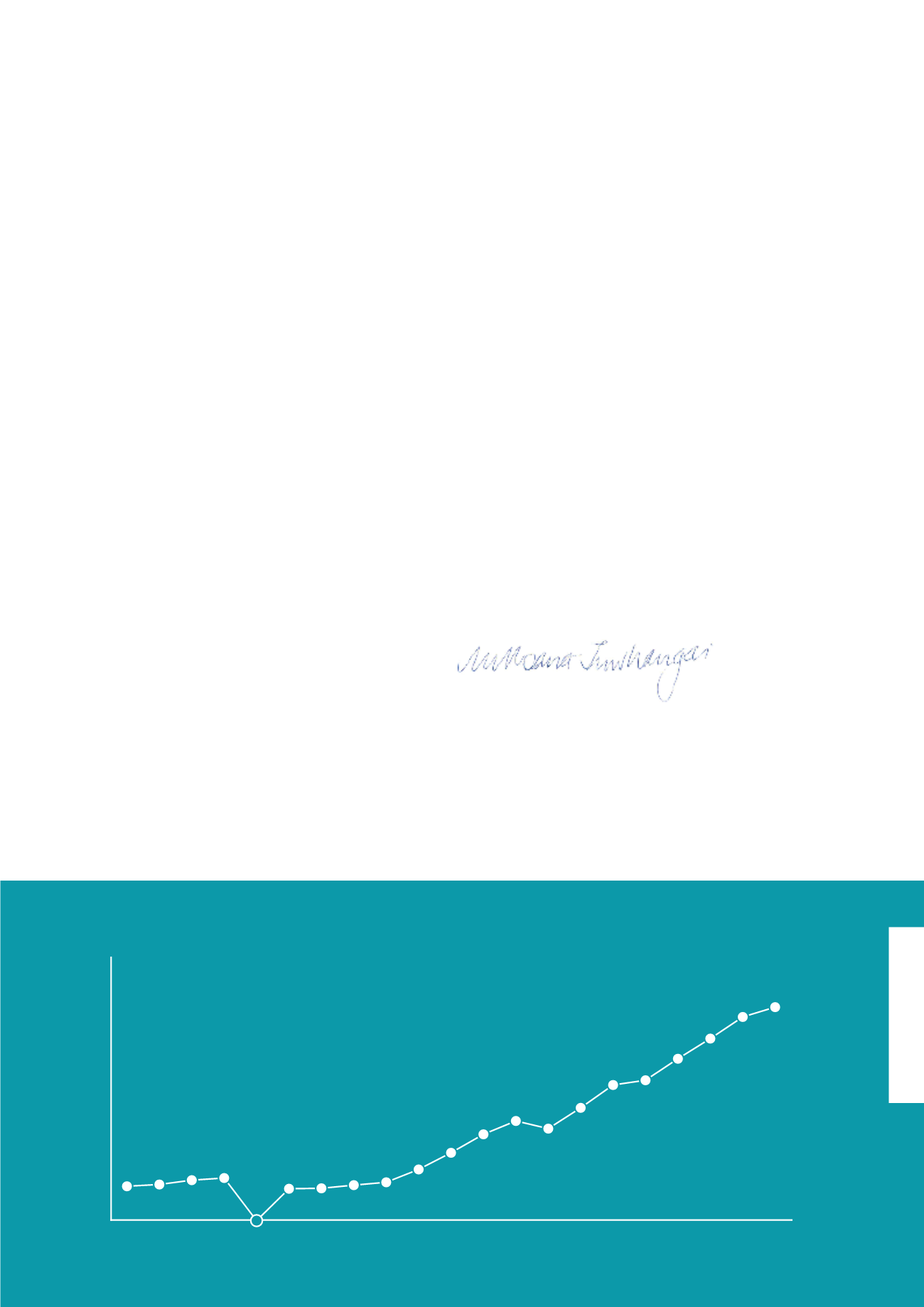 7
Improved rules now provide better guidance and
clarity, we have an innovative tikanga-based disputes
resolution mechanism, and reduced membership will
create a streamlining in the House that encourages
stronger decision-making and productivity.
I acknowledge and thank Nanaia and Sir Henry for
their leadership in steering this important review,
and Sponsorship Group members and the team who
successfully brought this project to fruition.
I also acknowledge Glen Tootill whose role as
Secretary ended when the new rules were adopted,
and thank our governance representatives for the
diligence they have shown in our collective effort to
structure for prosperity.
Putanga Tahua
Commercial Performance
The kaitiaki of our commercial assets, Tainui Group
Holdings (TGH), has made further good progress on its
diversification strategy under the new leadership of CEO
Chris Joblin who took over the role in August 2015.
The confirmed sale of 50 percent of The Base by the
year's end released a total of $192.5 million capital
for repayment of debt and re-investment into shares,
farming operations and direct investments. The Base
will now be run as a 50 percent joint venture with
listed company Kiwi Property, which has a strong track
record in operating shopping centres.
It was also pleasing to see TGH grow our whenua
holdings by purchasing an 89 hectare dairy farm at
Tauhei. TGH now manages around 4,500 hectares on
the tribe's behalf.
Net profit which includes some strong revaluation
gains from our commercial properties and land
holdings was up 66 percent compared to last year.
TGH and Waikato-Tainui Fisheries (WTF) paid a
combined dividend of $13.5 million this year, up seven
percent on last year.
Ngaa Whakamihi
Acknowledgements
My first acknowledgement is to the people of Ngaati
Hauaa. The name 'Te Kauhanganui' was gifted by them
and we thank them for their taonga which has guided
us well these past 20 years. He mihi nunui tenei ki a
koutou katoa.
I also acknowledge our many other iwi partners​ ​—​ ​
those who stand beside us as the Tainui Waka Alliance
and those within the Iwi Chairs Group. We recognise
our responsibility to share and contribute, and we
appreciate the support we receive in return.
I am supported by many in my role, none more so
than Deputy Chairman Te Whakahawea Rapana who
never fails to provide sage advice.
To my fellow governors, the chairmen and members of
our entity boards, to management and staff, thank you
all for your excellent work, support and commitment
to our cause.
Pai marire.
MAXINE MOANA-TUWHANGAI
Chairman
Te Whakakitenga o Waikato
0.19
0.21
0.23
0.24
0
0.18
0.18
0.20
0.22
0.29
0.39
0.49
0.57
0.53
0.64
0.78
0.80
0.92
1.04
1.16
1.22
'96 '97 '98 '99 '00 '01 '02 '03 '04 '05 '06 '07 '08 '09 '10 '11 '12 '13 '14 '15 '16
20 YEARS TOTAL ASSETS
*
1.5
1.2
0.9
0.3
0.6
0
$B
YEAR
*
Figures are based on historical records and are approximate