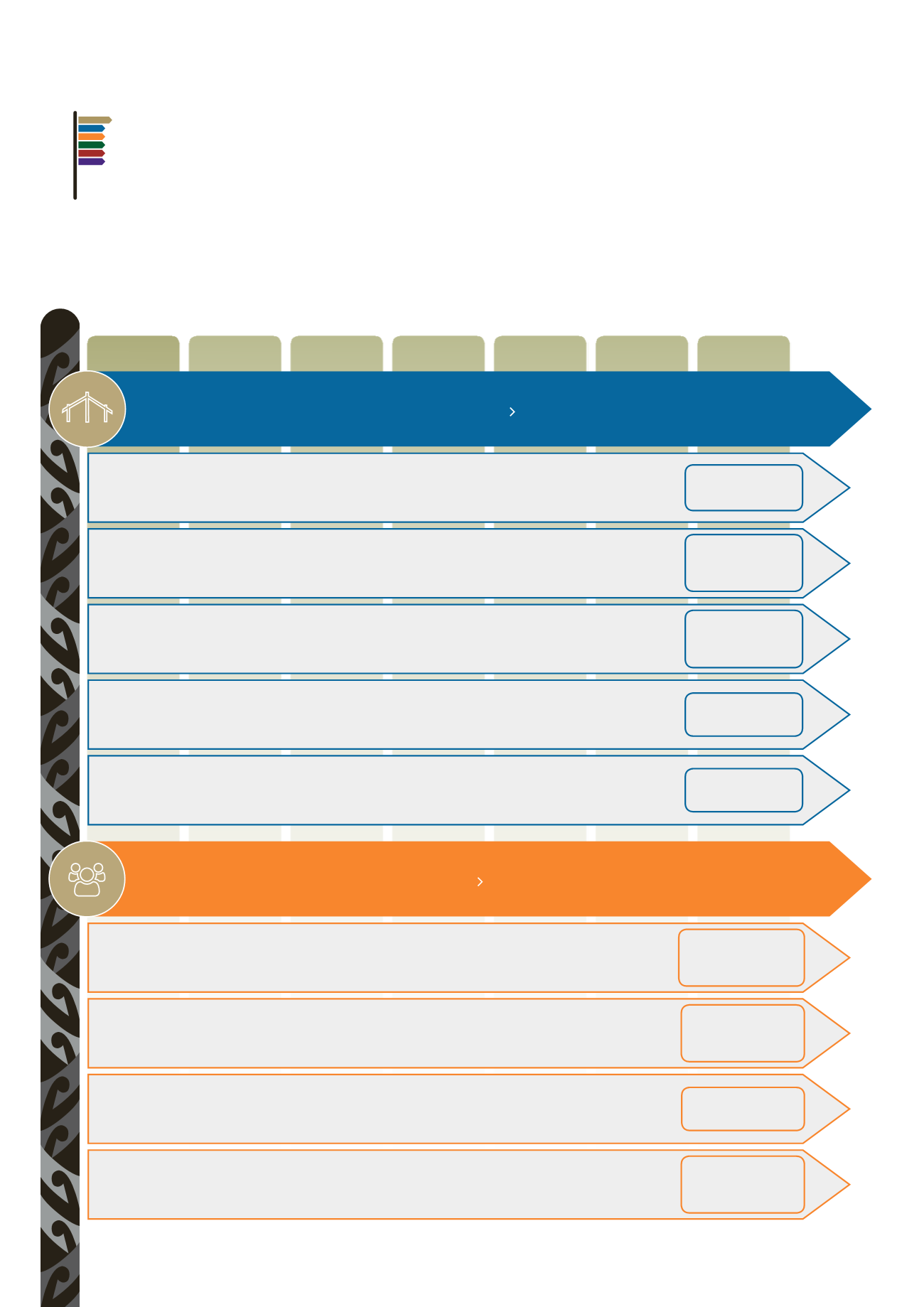 2045-50
2015-20
2020-25
2025-30
2030-35
2035-40
2040-45
WHAKATUPURANGA 2050
NGAA TOHU
STRATEGIC FRAMEWORK 2050
100% Tribally
Connected
Marae Connection
100% of tribal members are connected to their marae and know their
pepeha and whakapapa
85% with Lvl 2
NCEA and 75% in
Economic Pathway
Education
85% of tribal members 18-64yrs gain level 2 NCEA qualification or equivalent and
75% of tribal members are in an economic pathway to earn the median income
Ngaa Tohu Kaupapa
c u l t u r a l s i g n p o s t s
Ngaa Tohu Hapori
s o c i a l s i g n p o s t s
Our dream for our people is that they are successful in all areas of their lives:
committed to Kiingitanga, fluent in te reo Maaori, strong in tikanga, healthy,
well-educated, financially secure, environmentally conscious and socially sound.
Marae Assets
All marae have sufficient assets that meet industry standards to meet the needs of
their whaanau
Sufficient &
Certified Assets
for 68 Marae
Housing
100% of tribal members live in a warm, safe and healthy home and Waikato-Tainui home
ownership rate increases to national average rate of 64% for all tribal members >15yrs
100% Healthy
Homes & 64%
Homeowners
Mahi Tupuna
Succession plans are in place for all roles and responsibilities from marae to boardroom
Marae to
Boardroom
Succession
Health and Wellbeing
100% of tribal members achieve their whaanau plan goals. e.g. physical, emotional and spiritual goals
and have access to healthcare, live a healthy lifestyle and live as long as the average New Zealander.
100% of Whaanau
Plans Achieved
Te Reo
80% of tribal members increase their proficiency in te reo to fluent
80% Fluent
in Te Reo
Employment
100% of tribal members 15-64yrs eligible to be employed will be in full-time or part-time
paid employment and 50% of those employed will earn the median income or above
100% of those
Eligible to Work
are Employed
Tikanga
100% of tribal members know and practice tikanga and kawa
100% Practice
Tikanga & Kawa